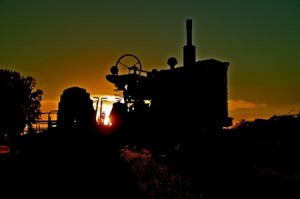 Tractor pulling is a sport built on ludicrous amounts of horsepower and torque. While all that raw mechanical force can move some remarkably heavy loads, it can also do a number on your equipment if it's not properly fortified. Such is the case in the sad story of this Farmall 1206 which met its end at the Tulare, California Farm Show in a twisted heap of sheared metal and spilled engine fluid.
The 1206 might've been a noble workhorse in the field, but this modified version wasn't quite prepared for the reality of competitive tractor pulling. The first attempt in the video is, well, pretty underwhelming. The tractor bellows an impressive amount of black smoke, drags the sled a grand total of about six feet, and then lurches to a halt.
For the second attempt, the driver must've really put his foot into it. This time the tractor makes a downright respectable charge down the track, but unfortunately its heart couldn't handle the exertion. Just a few seconds after the tractor comes to a stop its flywheel explodes, effectively ripping the engine compartment in half. The video doesn't do a great job of capturing the carnage, but the photos that follow give you a nice up-close view of the aftermath. Fortunately, no one was hurt in the incident. Check it out in the video below!