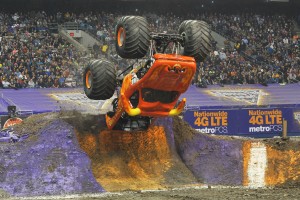 For motorsports entertainment, racing, stunts and other performances, there is no vehicle that compares to the monster truck. Whether it is their shocking size, striking stunts, unbelievable power or destructive capacity, monster trucks are an amazing attraction. If you are building or modifying your monster truck, make the internal components as amazing as the outside with specialized parts from SCS Gearbox.
SCS Gearbox manufactures heavy duty transmissions, quick change gears, gearboxes and more. These parts are made to stand up to high-intensity off-roading, jumping, crashing, racing and more! No matter what your goal is for your monster truck, we have top-quality parts that will help optimize your performance. Our parts are built around your needs, so each item is made to help you perform at you highest standards.
Outfit your monster trucks with parts that will last longer, give you increased power, control, stability and so much more. Contact us or one of our worldwide dealers for more information or to place your order today. Also feel free to click the links above to see some of items we offer specifically for Monster Trucks.