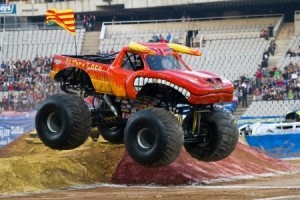 Is your dream to become a monster truck driver one day? It can be a little bit difficult to break into the industry at first. Even if you have the funds to build your own monster truck, most of the big monster truck shows won't let just anyone take part in a show.
They need to know who you are and what you're all about before they invite you. They also need to trust that you know your way around a monster truck and will help them put on a great performance. Here are some ways to get started in the monster truck industry:
Volunteer at Monster Truck Shows
There's no better way to show your interest in monster trucks than by giving up some of your time to volunteer at monster truck shows. From smaller, independent shows where you will get to interact directly with drivers to larger shows where you will have to hope to score an invitation to assist a driver during his preparation and clean-up, there are many opportunities for you to get your foot in the door by volunteering.
Educate Yourself on Monster Trucks
In a perfect world, building your own monster truck from the ground up is the ideal way to prove that you are serious about launching a monster truck career. However, if you can't do this, you can at least take the time to learn about the ins and outs of monster trucks. It's actually better to be knowledgeable about monster trucks than it is to throw money at a monster truck without knowing everything there is to know about it. By educating yourself about monster trucks, you will increase your chances of starting a successful career in the industry.
Join a Monster Truck Community

If you have a monster truck, you should take the time to join some of the organizations that have been created to help monster truck owners. For example, the Monster Truck Racing Association is one organization that will help you find your way in the industry. You should also continue to attend as many monster truck-related events as you can and meet as many people in the industry as possible.
If you need help building your monster truck, SCS Gearbox can provide you with the parts and service you'll need to get your truck off the ground. We offer heavy-duty transmissions, quick change gears, gearboxes, and other quality parts to our customers. Call us at 419-483-7278 today to learn more about how we can play an important part in your monster truck career.
SCS Gearbox Inc
Average rating:
0 reviews