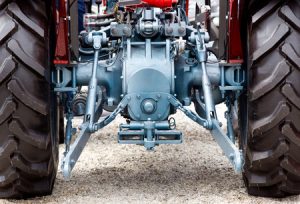 Last month, more than 300,000 visitors flocked to the 52nd annual National Farm Machinery Show at Freedom Hall in Louisville, Kentucky. While some people came just to check out the vendor booths and agricultural exhibits, the main attraction for many visitors was the Championship Tractor Pull which is held every year during the farm show.
This year the championship—recognized as the "Super Bowl of tractor pulling"—drew more than 400 driver applications from as far away as the Netherlands. Following a rigorous selection process, just 180 of those were chosen to drive in the competition. Drivers were then sorted into 10 divisions based on the weight of their modified tractors. In total, there was more than $200,000 in prize money at stake during this year's competition.
As usual, the Championship Tractor Pull showcased some of the biggest, loudest, most powerful tractors in the world. These heavily-customized behemoths tore through Freedom Hall, dragging heavy sleds and delighting audience members who came from far and wide to watch the show. You can see the final results of the championship here.
This year's championship was as exciting as ever, and next year's promises to be even more thrilling as the event will be celebrating its 50th anniversary with a look back at half a century of tractor pulling. You can even submit your own photos, memorabilia and memories to be featured in the show.
If you missed the championship this year, don't worry; next year's 50th anniversary competition is sure to be bigger and better than ever. If you find yourself in Kentucky next year, this show is a must-see.