Straight Thru Transfer Case
Quick Change Straight Thru Transfer Case
Compact unit, 10.666 C/L
10 ¼" Flange To Flange
90 lbs
Billet Aluminum Case
Super Strong Ground Gearing
Straight Thru Transfer Case Final Assembly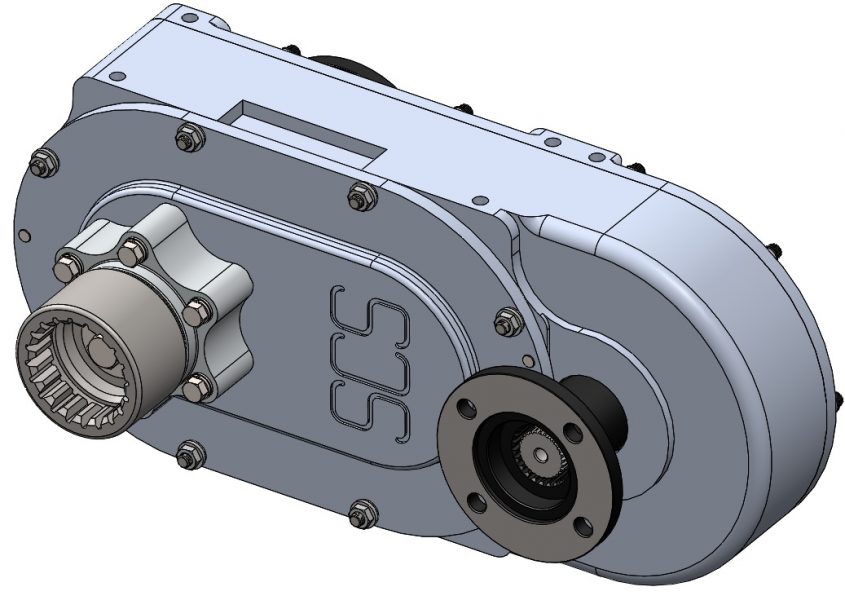 Quick Change Straight Thru Transfer Case
9" high, 20" case length. Clockable left and Right top side mounting to maximize ground clearance.
Supplied with universal 1350/1410 companion flanges Input and rear output
Front output uses 9" ford pinion yoke 1310/1330/1350
Compound quick change gearing, 2.64 overdrive to 2.64 underdrive.
Each quick change set nets two ratios, except 1 to 1 set
Gear ratio examples: 2 gear Q.C. set 1.56 ratio x 3 gear rear set 1.56 = 2.43 Change Q.C. set to 1.52 ratio x 3 gear rear set 1.56 = 2.37. Change Q.C. set to 1.462 ratio x 3 gear rear set 1.56 = 2.28 flip Q.C. set 1.56 ratio to OVERDRIVE x 3 gear rear set 1.56 = 1 to 1
New for 2015
Straight Thru Transfer Case Mated to a Power Glide or Turbo 400 Transmission
We are very proud to unveil one of our newest Product lines of 2015. Many customers have asked for this product and we are more than pleased to announce that we have successfully created the Mated Straight Thru Transfer Case for our Customers.
Straight Thru 4×4 Transfer Case with PowerGlide and Turbo 400 Adaptors
Quick Change Gearing
10.666 Centerline
90lbs
Ratios from 2.6 Overdrive to 3.8 Underdrive
Bolts Directly to Turbo 400 or PowerGlide Transmissions
Available in Driver or Passenger Side Orientation
Clockable up to 53° (Turbo 400 Only)
All Are available with a wide selection of Yokes, Flanges, and Couplers.
Turbo 400 Straight Thru Transfer Case (Passenger Side)
Straight Thru Oil Instructions
Both are available with the Same Gearing availability as the Non-Mated Case and the Same Options for Output Yokes and Flanges.