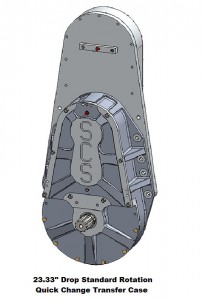 Older transfer cases definitely got the job done, but they simply didn't offer the same performance you can find in a modern product. SCS Gearbox has some of the most innovative transfer cases available, including our 23.33 CL drop quick change transfer case. This case is available with or without neutral and features gearing from 1.3 overdrive to 7.6 underdrive. A 1 3/4-10 spline input and output ensures it will be an easy fit.
AVAILABLE WITH OR WITHOUT NEUTRAL
GEARS FROM 1.3 OVERDRIVE to 7.6 UNDERDRIVE
1 3/4-10 SPLINE IN AND OUT NO GEARING OR SHAFT FAILURE 15 YEARS
Click the links below to view images, parts drawings, dimensions, and exploded views.