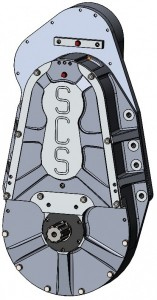 If you're looking for some of the best performance your vehicle can get, look no further than the 18″ CL drop standard rotation quick change transfer case from SCS Gearbox. This gearbox has a gearing range from 1.3 overdrive to 4.7 underdrive, is available with or without neutral, and features a 1 3/4-10 spline input and output. There are even companion flanges available for 1350/1410 or 1480/1550 joints.
GEARS FROM 1.3 OVERDRIVE TO 4.7 UNDERDRIVE
AVAILABLE WITH OR WITHOUT NEUTRAL
1 3/4-10 SPLINE IN AND OUT 1 3/4-10 SPLINE
COMPANION FLANGES ARE AVAILABLE FOR 1350/1410 or 1480/1550 JOINTS
Click the links below to view images, parts drawings, dimensions, and exploded views.