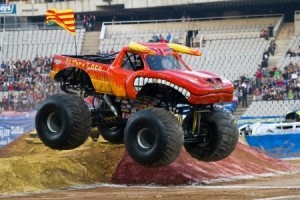 Are you planning on attending a Monster Jam show? If so, you're in for an amazing event! Monster Jam shows allow you to experience all that monster trucks have to offer. You will see them do tricks, drive fast, and make tons of noise. In fact, you might want to bring a pair of earplugs with you since the noise levels at a Monster Jam show can reach 125 decibels. Here are some other interesting facts you should know about attending a Monster Jam show.
It will feature the biggest trucks you've ever seen.
The monster trucks that take part in a Monster Jam are not your average pickup trucks. They're not even your average monster trucks. They are state-of-the-art trucks that have been custom made to perform tricks and amaze audiences. They run on ethanol, stand more than 10 feet tall, weigh more than 12,000 pounds, and have tires that are—get this—66 inches in diameter. You're not going to believe how big these trucks are in person.
It will feature a true competition.
Some people are under the impression that Monster Jam events are all about big trucks crushing little cars. There is more to it than that. At the typical Monster Jam show, monster trucks will compete in races, take part in donut competitions, show off during freestyle events, and do so much more. You will get a glimpse at everything monster trucks can do during a Monster Jam event.
It will end with you helping to crown a winner.
There are judges that help judge the different events during a Monster Jam show. But the audience also gets to take part in judging these days by using their smartphones. You will get a say in who walks away a winner when you attend a Monster Jam show with your friends and family.
SCS Gearbox loves all that Monster Jam does for the monster truck industry. We love it so much that we play an active role in helping monster truck drivers by supplying them with the parts they need to succeed. Call us at 419-483-7278 to purchase monster truck products today.