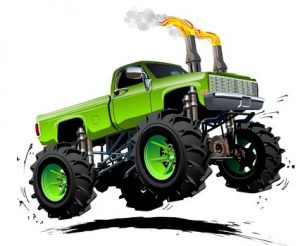 If you have ever shown any interest in monster trucks, then there's a good chance that you are familiar with Monster Jam and what it's all about. First launched back in 1992, Monster Jam is a monster truck tour that has entertained millions of fans over the years. Monster Jam is always a wonderful time, as it will provide you the chance to see monster trucks up close and personal. Here are some fun facts about Monster Jam and the trucks that are used during Monster Jam shows.
Breaking into Monster Jam is very difficult to do.
Do you want to become a Monster Jam truck driver? It's not easy to do! While just about anyone can put together a monster truck if they really want to and have enough money to do it, Monster Jam truck drivers typically start out as crew members first and then work their way up. It can be tough to break into the Monster Jam world and become a driver without having behind-the-scenes experience, which is part of what makes Monster Jam so much fun. The drivers know the ins and outs of their trucks and are always ready to show them off.
Monster Jam monster trucks can be very expensive.
You can't just go to a monster truck lot and purchase one. You have to spend the time to put one together, and it can be very costly. According to some reports, a monster truck capable of performing in a Monster Jam show can cost upwards of $250,000. Moreover, that doesn't even include all of the maintenance that goes into it once it's built.
Transporting monster trucks to Monster Jam shows isn't easy.
Monster Jam fans often wonder how in the world Monster Jam drivers get their trucks from one show to the next. You can't exactly drive a monster truck down the street! Instead, most drivers take the tires off their monster trucks and transport them separately. It makes it easier for them to move their trucks around, but it's still a complex process that takes time.
If you own a monster truck or dream about building one yourself, SCS Gearbox has all of the monster truck parts and components you will need to get the job done. Call us at 419-483-7278 today to hear about the monster truck supplies we have in stock.