Shiftable Marine Crashbox
SHIFTABLE ZERO DRAG MARINE CRASHBOX
FINALLY, A BOLT IN REPLACEMENT FOR YOUR WEAK LINK, THE TROUBLESOME BORG WARNER 72C
Stronger!  Used by all the top blower motor off shore teams for over 10 years without a single failure.
Faster!  Scs developed drop out technology in our crashboxes.  Since then, all catamarans are a minimum of 3 ½-mph faster.  We have had reports of up to 10-mph faster in some borg warner applications.
VIRTUALLY MAINTENANCE FREE!
Can be used with any 4 inch marine bellhousing, cooler style or not.
Will accept newer, dual starter bellhousings.
Available in 1350 or 1480 output flanges.
Available with scs tailstock that makes the unit the same length for existing boats with 72c and mercury #6 tailstocks.
Can be used with a mercury #6 tailstock, but is 31/2 inches longer.
Does not need a transmission cooler!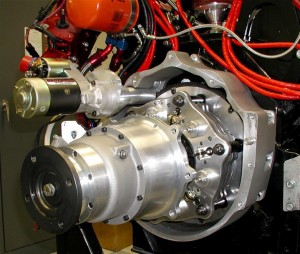 Does not use a drive plate!
Comes complete with flywheel!
Competitively priced!