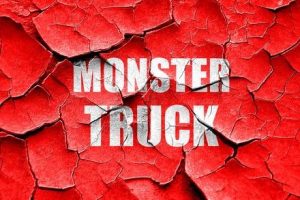 Whether you're a huge fan of monster trucks or just a casual fan of monster truck driving, there's a good chance you've heard of the legendary Grave Digger monster truck. It was originally conceived back in 1981 by Dennis Anderson. He used an old 1957 Chevy Panel Wagon and parts that he found lying around in junkyards to put the truck together. The paint on the original Grave Digger was a dull orange and the red headlights on it came directly from school buses, but those things didn't prevent it from eventually turning into an iconic vehicle in the monster truck world.
The Evolution of Grave Digger
Over the years, Grave Digger has evolved quite a bit, and it's now considered one of the most famous monster trucks in the entire world. Anderson went on to win not one, not two, not three, but four Monster Jam World Finals' championships in Grave Digger, and over time, he slowly built the truck up to include better parts that functioned more efficiently. The truck also now features a green and black flame motif that has become synonymous with the Grave Digger brand. It's amazing to see how far it has come.
While Anderson spearheaded the Grave Digger movement, there are a number of drivers who get behind the wheel of the truck at Monster Jam events these days. Adam Anderson, Charlie Pauken, Pablo Huffier, Morgan Kane, and Tyler Menninga are just a few of the drivers who have showed off their best moves in Grave Digger. The truck is currently powered by a 540 CI Merlin engine, and it has 1500 horsepower and a Coan 2-Speed transmission. It's sponsored by a handful of companies, including ARP Automotive Products, BKT Tires, Holley Performance, Powermaster, and more.
Building a monster truck that can compete with the likes of Grave Digger won't be easy, but that's part of the fun of diving headfirst into the world of monster trucks. SCS Gearbox can help you by providing you with all the monster truck parts you could ever want or need. Call us at 419-483-7278 today to learn about the monster truck equipment we can provide for you.